WIDER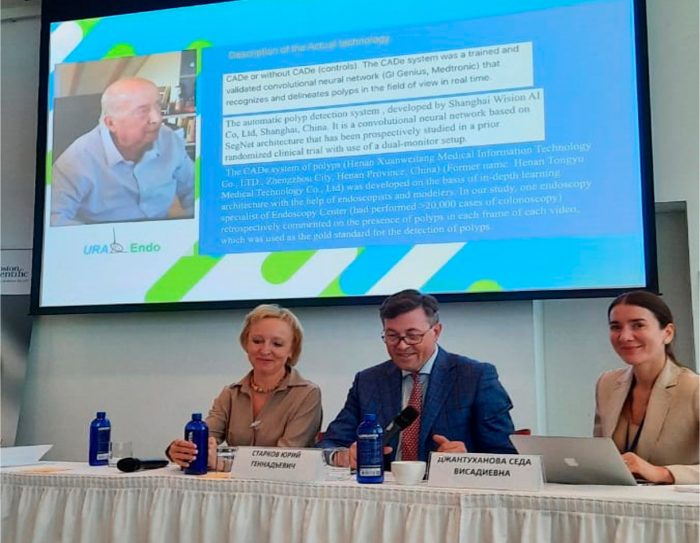 Due to the pandemic caused by COVID-19, the celebration of the 14th International Notes-WIDER-Barcelona Course had to be postponed to 2021.
However, the scientific activity of Dr. Josep Ramon Armengol and his team at Vall d'Hebron Barcelona Hospital Campus didn't stop and they have continued to participate, virtually, in various international events related to endoscopy.
Here are these events:
The III Eurasian Endoscopy forum (UralEndo), toook place in Yekaterinburg, from 4th-5th September, 2020.
Live demostration: Drs Armengol-Miro and Dot. Wider-Barcelona         
At this event, Professor Jose Ramon Armengol-Miro gave a timely lecture on the role of standard endoscopy terminology in the rapidly approaching era of artificial intelligence (AI). The aim was to expand our endoscopic horizons and to give a glimpse of a future which has already arrived.
Artificial intelligence is the latest buzzword in the field of endoscopy, and AI will soon be another tool in the armamentarium of the endoscopist. Thus at UralEndo, the III Eurasian Endoscopy Forum, we were pleased to present a highly relevant lecture by Professor Jose Ramon Armengol-Miro on the part to be played by standard endoscopy terminology in this new context. The lecture, presented in virtual format, was viewed online by over 3000 specialists because of the new "hybrid" format of the forum.
The fascinating presentation by Professor Armengol-Miro gave participants the feeling that they were watching a science fiction creation, such as Douglas Adams' The Hitchhiker's Guide to the Galaxy which came out in 1978. Some of Adams' fantastic ideas are becoming realities, and we all need to be knowledgeable about them as rapidly evolving adjuncts to endoscopy.
Being, in the field of endoscopy, a "grand master" and an artist (incidentally, a friend of Salvador Dali's for 15 years), Professor Armengol-Miro teached the tremendous need for accurate use -of endoscopic terminology, but always to remember that there is a real patient behind every definition.
Professor Armengol-Miro shared his own outstanding experience of endoscopy practice spanning more than 25 years. He discussed the evolution of machine learning with deep learning based on neural networks, and the use of neural networks for detection, identification, and characterization of the different polypoid lesions of the digestive tract. He assured us that AI will be an increasingly useful supporting tool for the physician but that it will never replace the human element. 
The IV Central China International Forum on NOTES and Interventional Endoscopy" took place in Zhengzhou (China), from 13th-16th September, 2020.
Live demostration: Drs Armengol-Miro and Dot. Wider-Barcelona         
Yaroslavl Endoscopy Symposium. International Endoscopy Workshop with live demonstrations and hands-on training. Took place in Ekaterinburg (Rusia), from 3rd-4th July, 2020.
Live demostration: Drs Armengol-Miro and Dot. Wider-Barcelona